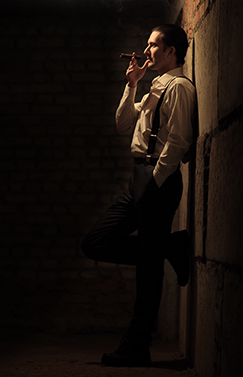 With a fascinating history that spans generations and cultures across the globe, the journey of tobacco from explorers' curiosity to everyday indulgence has been a long one. So we thought we'd highlight some of the key milestones, to help tell the story.
2.5 million years ago
– Evidence of tobacco dating back this far is found fossilized in Peru.
Around 1 BC
– According to many historians, native Americans were using tobacco for ceremonial and medicinal reasons, establishing its role in society, particularly in Latin America.
5th- 7th centuries
– As the Mayas spread throughout the Americas, they took their culture of smoking with them, introducing their customs to neighboring tribes.
Around the 8th Century – Pictorial evidence of smoking dating back this far is found on Guatemalan pottery.
1492 – Christopher
Columbus discovers tobacco when gifted dried leaves by local. But it's Rodrigo de Jerez who first brought it to Europe. (Although as Europe's first smoker, he was imprisoned for 7 years for looking like a devil.)
1493 – Despite Jerez
, it's Robert Pane, a monk accompanying Columbus, who is actually credited with introducing tobacco to Europe.
1498
– Columbus names the island of Tobago after the native tobacco pipe.
Early 16th Century
– Tobacco use is also discovered in Mexico and Brazil, spreading intrigue throughout Europe.
1530
– Rolling tobacco becomes popular in Spain, with European cultivation beginning a year later.
1560–1565
– Tobacco use spreads to Portugal, France and England, largely popularized by Catherine de Medici, the Queen Mother of France, who believed it was an excellent remedy.
Early 17th Century
– The popularity of tobacco spreads and pipe-smoking takes off.
1730
– The first American tobacco facilities are established in Virginia, USA.
1818
– Grand Duke of Tuscany, Ferdinand III, discovers the pleasure of fermented Kentucky tobacco and establishes Toscano cigars.
1826
– Cigar smoking becomes popular in England.
1832
– One of the first modern cigarettes is created by Egyptian soldiers.