Secrets of the Trevi Fountain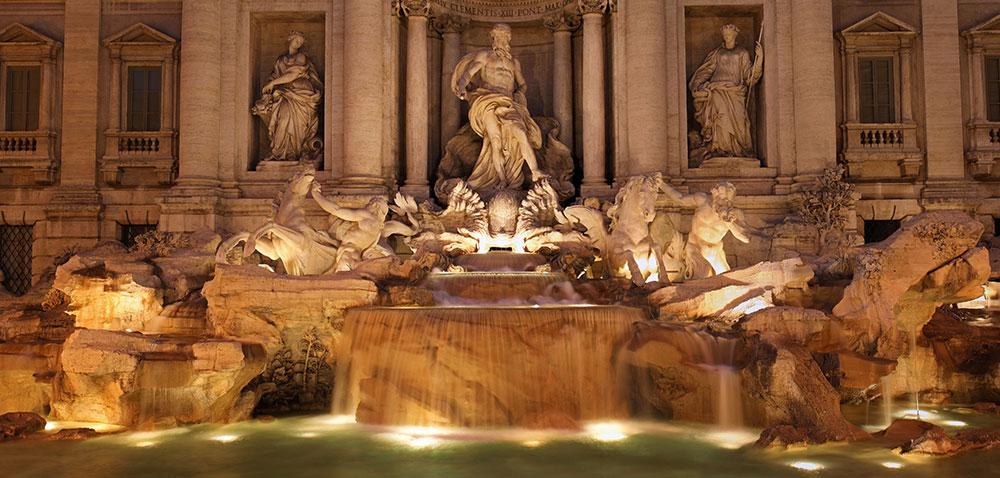 It may be one of the most famous fountains in the world, but Rome's Trevi Fountain, designed by Nicola Salvi, hides one or two secrets you may not know about.

Built at the convergence of three roads (hence the name – Tre Vie), the fountain also marks the point where two of Rome's major aqueducts met. Acqua Vergine and Aqua Virgo supplied much of the water to ancient Rome for over 400 years.

An older fountain stood on the site for decades, but when it was deemed 'too un-dramatic' by Pope Urban VIII in 1629, plans began to create a new one. It took another hundred years for these plans to come to fruition, when a contest was held to design a new fountain. The winner hailed from Florence, but when the people of Rome objective to a non Roman artist being appointed, Nicola Salvi was hastily chosen as a replacement.

Many people think Neptune stands at the center of the baroque fountain. But with a staff, instead of a trident, the figure is in fact Oceanus, God of all water. There's another secret hiding behind the large 'Ace of Cups' pot to the left of the fountain. A local barber whose shop was behind the fountain used to torment Salvi daily about his construction. In an act of defiance, Salvi positioned the pot to completely block the barber's view of the finished work – punishment for his lack of faith.

Most people know that to throw one coin from the right hand, over the left shoulder into the fountain means a safe return to Rome someday. But according to one legend, throw a second coin and your return will also be met with romance and a third for that romance to end in marriage. It's a slightly different outcome to the three coins thrown in the Hollywood classic 'Three Coins in the Fountain' which resulted in three women each finding love. However many coins you throw, it's all good news as the money thrown (roughly $4000 a day) goes to charity.