Would you sell your soul for a piece of road?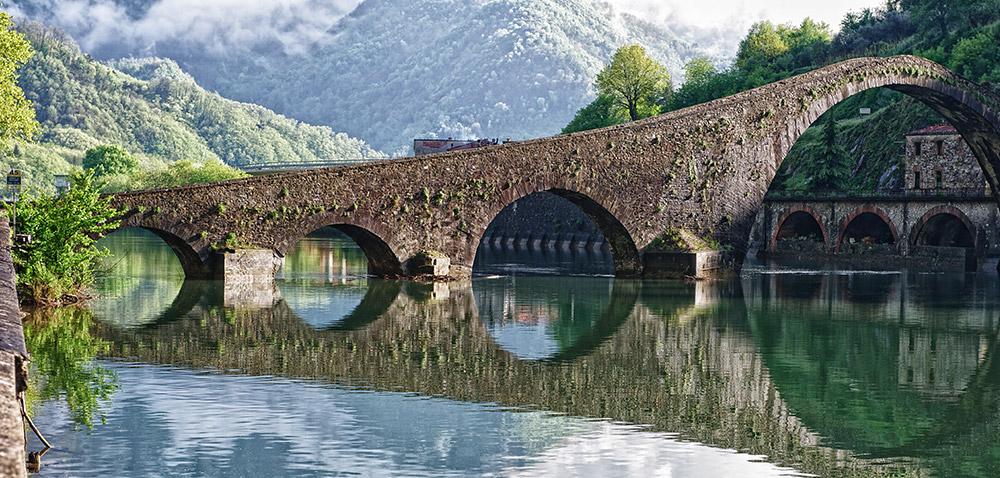 The sleepy Tuscan town of Borgo a Mozzano is home to a quirky piece of engineering – and a legend that you'll find repeated throughout Europe. Spanning the Serchio Magdalene River, the Maddalena's Bridge, the so-called Devil's Bridge, has an impressive high arch that slopes up from the footpath. It allows tall boats to pass below and is supported purely by the weight of the bricks it's made from.

Built in medieval times, the original bridge that crossed the rover fell into a state of disrepair, being deemed to unstable to carry heavy millstones across it and hampering construction in the town. In the 13th Century, a man called Castruccio Castracini was tasked with changing the structure of the bridge to make it stronger and he came up with the clever raised arch design.

But while the design was sound, construction proved difficult. Legend has it, with the clock ticking, the master stonemason began to panic. The night before the bridge was due to open, it was still incomplete, but an unexpected visitor came to offer assistance – The Devil himself.

In exchange for completing the bridge there and then, the devil demanded to keep for eternity the first soul that walked across it. Reluctantly, the stonemason accepted and the devil raised the arch with his pitchfork. But at the grand opening, in a stroke of genus, instead of walking across the bridge himself, the stonemason sent a pig running across it. The devil became so enraged that he threw himself into the river and didn't trouble the town again. So if you ever find yourself taking a stroll over the Maddalena's Bridge, spare a thought for the devil, swallowed by the icy waters below.