The Palio – Siena's city horserace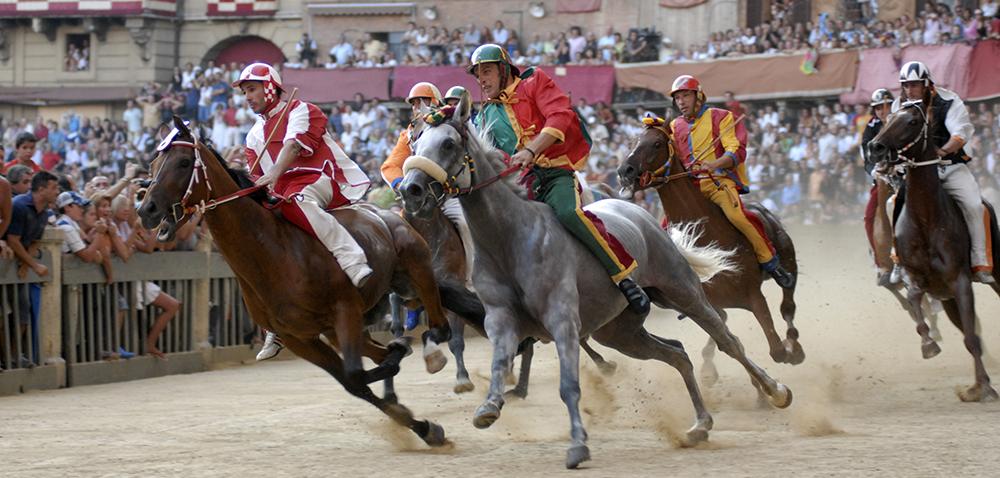 One of Italy's biggest horseraces doesn't take place on the familiar green grass of a large racecourse, but in the middle of one of it's oldest medieval cities – Siena.
The horserace, known as The Palio, takes place twice a year in the Piazza del Campo, in a tradition going back hundreds of years. The town square is covered in dirt especially for the occasion and the spectators herded into the middle to create a circular track – and some breathtaking views from such close proximity to the action.
The event has a real carnival atmosphere, with celebrations extending beyond the race and a banquet for 1,000 held in the streets of the city the night before, where diners can enjoy three courses on the race course.
Siena is a city made up of 17 key neighborhoods, or contrade, each with their own strong identity. Once the battalions for the city's defense, many friendly rivalries have taken place between them. Every 2 July and 16 August, the Palio gives each a chance to compete for glory out in the open. For safety reasons, the number of horses that run is limited to 10, so the contrade take it in turns to claim one of seven fixed spots, with the other three going to ballot.
It's a dangerous race, with tight corners and so many spectators, made even more nerve-wracking by the fact the riders have no saddles. Thankfully, a little old-school extra safety is added by cushions fastened to the tightest corners. Besides, even if a rider is thrown, all is not lost. A horse without a rider (scosso) can still win the race for its contrade.